The UFC's return to Calgary, Canada was an exciting and memorable event from top to bottom. Here are some of the takeaways from last night's event.
The rematch between Dustin Poirier and Eddie Alvarez was a year in the making and was twice as dirty than their first affair. During the build up, Alvarez downplayed Poirier, referring to him as an undercard fighter. While Poirier proved he's no slouch, controversy was once again present.
After Eddie Alvarez lost mount due to 12-6 elbows, Dustin Poirier (24-5, 1 NC) capitalized with a fight-ending barrage! Emphatically taking this marquee rematch, "The Diamond" is 8-1 (1 NC) as a UFC lightweight. He has finished 19 of his wins, 12 by KO/TKO. #UFCCalgary pic.twitter.com/YWbAQxaDN4

— Tanuki Usman (@Hamderlei) July 29, 2018
For instance, the cage happened to get in the way of Alvarez's hand while being on the receiving end of a guillotine in the second round. Referee Marc Goddard made sure to put an end to that, but then Poirier's ear made its way around Alvarez's finger moments later. Alvarez then went onto to mimic his coach's downward elbow movement, which just happened to be included in the do not attempt list of the MMA rulebook.
Goddard was having none of it and stood them up, which led to the tide turning Poirier's way. His focus was turned towards putting an end to Mrs. Alvarez's animal like screeches from the crowd. Poirier is now in an interesting spot and could potentially be next in line to be welcomed to Suplex city. Unfortunately, Wikipedia says Conor McGregor got next so Poirier's next scrap could instead take place against the wolverine healed up Tony Ferguson at UFC 229 in October.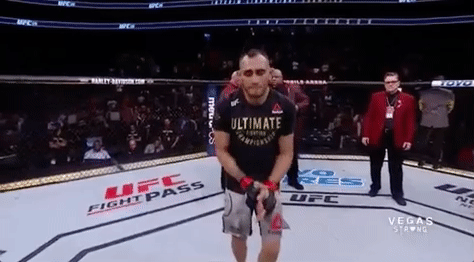 Conor McGregor was rumored to be in town for fight weekend, which led to Dana White supplying Khabib Nurmagomedov with two of the cheapest looking security guards he could find on short notice. Fortunately, there were no incidents besides the train wreck of a Q&A Nurmagomedov was forced to be a part of.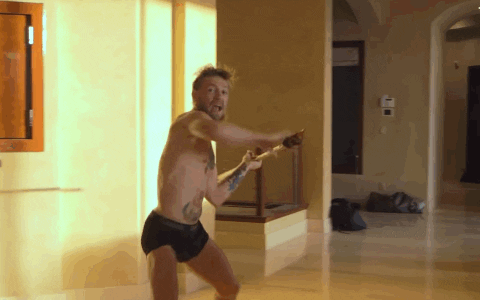 With interim belts being the latest fashion trend in the UFC, it's no surprise that Joanna former Champion is proposing an interim title for the UFC women's strawweight division. Jedrzejczyk took a page out of Nick Diaz's playbook by questioning the legitimacy of Rose Namajuna's injury that has kept her out of action since their rematch three months ago.
Jedrzejczyk then went on to respond to Namajunas' precondition in order for a third bout to take place. No chance she'll publicly call Namajunas the best strawweight fighter in the world. Joe Benavidez and Ben Henderson can sympathize with Joanna.  Two losses to the champion is the MMA equivalent to being trapped in the friend zone.
Of course, there are always exceptions and one might come in the form of former UFC featherweight king, Jose Aldo. The former champion delivered a body shot to Jeremy Stephens that would make Bas Rutten proud. The TKO victory sparked up the debate of whether an interim title bout between Aldo and Brian Ortega should take place next. Now fans and the media are beginning to join in on the interim title frenzy.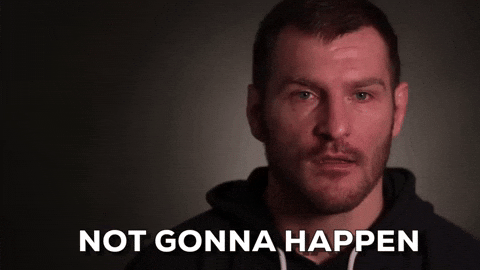 Lastly, Alexander Hernandez proved that he is not only a knockout artist, but also a grinder as he outworked the "Canadian Gangster" Olivier Aubin-Mercier. Hernandez took no satisfaction in his performance, but the win allowed fans to see how he'd fair in a 3-round bout. A potential match up against somebody like Al Iaquinta would make for an exciting bout. Unfortunately, Iaquinta has no idea who Hernandez is.
— Ragin' Al (@IAQUINTAREALTY) July 29, 2018
In Iaquinta's defense, Hernandez's wikipedia page remains non-existent and his Twitter account is just four months old. However, don't let that fool you, Hernandez has everything it takes to be a superstar in the UFC. Don't believe it, just ask him. As of today, he's got just short of 3000 followers on Twitter since joining in March of this year. Let's see where he's at by year's end.