It looks like the GOAT is foreshadowing a showdown against Jon "Bones" Jones in the near future. Jones answered the call expressing interest in fighting Ilir Latifi so long as he keeps winning.
Winning, you say? Because that's all that Ilir Latifi knows how to do. The infamous Sweden native is entering his prime at the ripe age of 35 in a wide open light heavyweight division. He's won five of his last six bouts. The lone loss against Ryan Bader shouldn't count given that Latifi simply wanted some rest after head butting Bader's right knee. The inexperienced referee then issued an ill advised and premature stoppage.
Just keep winning my friend, that's usually the best way to get to me👍🏾 https://t.co/vMWgXSVcky

— Jon Bones Jones (@JonnyBones) August 19, 2018
If you take a look at Latifi's UFC win-loss record, you'd notice that the guys he lost to are no longer in the UFC. Sure, Jan Blachowitz is still under contract, but not for long. He will soon follow the trend of exiting the UFC before Latifi can get his revenge. The current UFC light heavyweight champion wants no part of Latifi as seen in their recent encounter. Notice how Daniel Cormier intelligently keeps his distance and remains at least 45 feet away from the uncrowned champion.
Ran in to @dc_mma https://t.co/miX6lkYcO4

— Ilir Latifi (@Latifimma) August 12, 2018
Unlike Jon Jones, Latifi has never been flagged for performance enhancing drugs. Then again, maybe it's because USADA wouldn't dare show up to Latifi's doorstep at 6 A.M. If they had, well then there would be no more USADA employees left alive.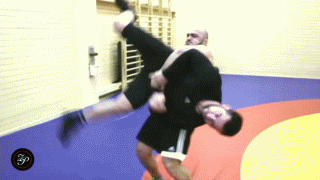 Alas, the mega fight between Jones and Latifi may soon be on the horizon given Jones' impending slap on the wrist. Let's just hope Latifi doesn't put Jones back on the shelf for another two years.