UFC featherweight champion, Max Holloway suffered two consecutive heartbreaks as he was once again pulled out of a title fight on extremely short notice, this time due to concussion related symptoms.
It wouldn't be International Fight Week without somebody in the main or co-main event pulling out due to injury. For the fourth consecutive year, a UFC title fight has been pulled on days notice on the usually stacked July event.  Max Holloway was reportedly taken to the emergency room on Monday due to exhibiting signs of suffering a concussion, but seemed good to go until after the open workouts on Wednesday according to ESPN's Ariel Helwani.
Breaking: Max Holloway is out of UFC 226. Here is a statement from his management team, exclusive to ESPN. More coming shortly. pic.twitter.com/PO4Zm0DeBC

— Ariel Helwani (@arielhelwani) July 5, 2018
Holloway has now been pulled from UFC 222 against Frankie Edgar in Marc, UFC 225 against Khabib Nurmagomedov in April, and now UFC 226 against Brian Ortega. The International Fight week curse was bound to continue regardless of how close we were to the event. Its best to place the blame entirely on Chael Sonnen and Wanderlei Silva. Here's why.
International fight week 2014 featured UFC 175 headlined by Chris Weidman defending his middleweight title against Lyoto Machida and Ronda Rousey defending her women's bantamweight title against Alexa Davis. Luck was on the UFC's side in a sense, given that Weidman was initially set to defend his title at UFC 173. Chael Sonnen and Wanderlei Silva were also set to meet at UFC 173 to settle their beef after coaching TUF Brazil. Once again, luck prevailed as the anticipated grudge match was moved to UFC 175.
Suddenly plans were derailed when Wanderlei Silva refused to undergo a random drug test weeks ahead of the bout. Sonnen, never one to be outdone then went on to fail a random drug test two weeks after Silva refused his. After Silva was forced out of the bout, he was briefly replaced by Vitor Belfort who was originally scheduled to fight Weidman at UFC 173, but opted not to fight after TRT was officially banned in February. Belfort must've figured his testosterone levels were high enough to physically reach Jesus.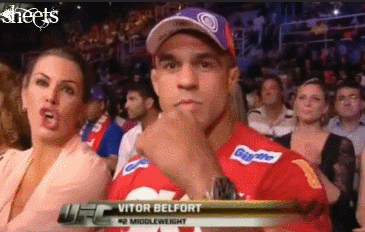 Mind you, this was before USADA. From that day forward the MMA Gods swore to punish MMA fans on the week solely dedicated to the elimination of brain cells via fisticuffs. Case in point, in 2015, UFC 189 headlined by Jose Aldo and Conor McGregor was altered to Chad Mendes vs McGregor for the interim UFC featherweight title. UFC 200 in 2016 was initially headlined by Jon Jones vs Daniel Cormier vol. 2, but Jones was forced out a day prior to the event and replaced by Anderson Silva.
Last year, UFC 213 was supposed to feature then UFC champion, Cody Garbrandt vs TJ Dillashaw, but Garbrandt was removed due to suffering a back injury in late May. Then to make things worse, Amanda Nunes was forced out of her title defense against Valentina Shevchenko just hours before the event due to sickness. This year all things appeared to running smoothly until Holloway suffered a concussion before Ortega could even landed a punch.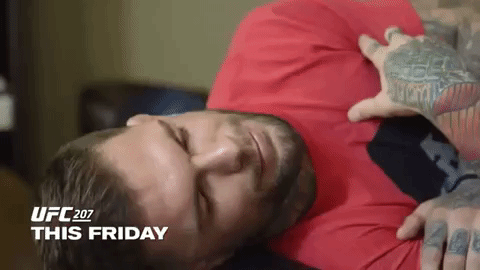 Holloway will likely be back next month at UFC 227 if all goes well. This has probably been the worst year of Holloway's career given the three times he was forced out of three title bouts. The 26-year-old champion could've been a two time division champion by this point if he had luck on his side.