Bellator welterweight champion, Rory MacDonald has his Canadian psycho eyes set on middleweight gold as he takes on Gegard Mousasi at Bellator 206 on Saturday. Here's why the UFC is kicking themselves for letting the psychotic one get away.
Five years ago, UFC President, Dana White and Rory MacDonald found each other at odds. The reason being that MacDonald was adamant when he said he would never fight his friend and teammate Georges St-Pierre, the UFC welterweight champion at the time. This is probably the only fight MacDonald ever turned down.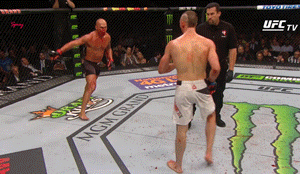 Dana White wouldn't budge, telling everyone that the two men will inevitably fight. He cited the potential payday as the reason why MacDonald would eventually change his tune. Things didn't go Dana's way. Flash forward to UFC 189 in which MacDonald failed to dethrone then UFC welterweight champion, Robbie Lawler in a bloodbath. The loss resulted in two swelled up eyes, another broken nose and another concussion, which triggered MacDonald's suggestion that he ought to be getting paid more for his efforts. The hypothetical UFC pay raise never came to fruition leading to his exit.
At 29 years of age, MacDonald is now moving up to 185 lbs for the first time in his career against the dangerous and crafty Gegard Mousasi. Then after that he will compete in Bellator's welterweight tournament early next year even though he's the champion and should be facing the winner of said tournament. Hell, if he had it his way MacDonald would be a part of Bellator's heavyweight tournament as well. He's also from Canada, the market the UFC once prioritized for years up until recently.
Given Dana White's animosity towards current UFC welterweight champion Tyron Woodley and or Nate Diaz, he could use someone like MacDonald right about now. Especially since MacDonald scored a one sided decision win over Woodley back in 2014, which is what started White's anti-Woodley movement.
Win or lose, MacDonald is making waves in a rival promotion and making up for the slow start in which he was only booked twice since jumping ship in the summer of 2016. If Bellator plans on keeping him at a pace of one fight per year, we might not get a chance to see "The Red King" return home. In fact, we might miss out on watching the Montreal native show off his handy work.

The GSP money that Dana White once teased MacDonald with is now all but a distant memory. MacDonald told MMA Weekly on Thursday that should he win the Bellator middleweight title, he'd prefer to defend both belts, an idea Bellator president Scott Coker isn't opposed to.
If Bellator fails to keep MacDonald happy, I think we'd all gladly welcome Rory back to the UFC and next time hopefully they can surpass Bellator's offer and help bring back our beloved family man/silent killer.