Move over Alistair Overeem and Curtis Blaydes, CM Punk is scheduled to return to the octagon at UFC 225 on June 9th against Mike Jackson.
The buildup to this fight has come with a lot less media hype, which is probably a good thing seeing how bad things went for CM Punk in his first outing 20 months ago at UFC 203. To put things into perspective, Travis Browne also fought on that card in a unanimous decision loss against Fabricio Werdum in the co-main event. Browne is no longer in the UFC. Ironically enough White stated it might be time for Browne to retire following two more losses, but here's Punk being given another shot for all time's sake.
White on Overeem being on the UFC 225 prelims: When Alistair Overeem sells as many pay-per-views as CM Punk does, we can argue. #UFCLiverpool

— MMAFighting.com (@MMAFighting) May 27, 2018
To put things in even more perspective, Urijah Faber was also on the same card as CM Punk and he is now retired. But, not everything has changed since Punk's lone loss in MMA. For example, Stipe Miocic is still the UFC's heavyweight champion. He also might still be upset about his contract as well.
Another particularly more relevant change is Punk's age. He is now 39. His opponent might not have a Wikipedia page, but he has spent more time training MMA than his famed opponent as well as youth on his side. The 33-year-old Mike Jackson hasn't competed since his submission loss against Mickey Gall in February 2016. If its any consolation, CM Punk managed to last longer before eventually succumbing to the rear naked choke against Gall.
All jokes aside, Punk was simply given a raw deal and he might've been too naive to realize it at the time. Upon gaining interest in competing in mixed martial arts, Punk should've hung up the phone on Dana White and searched the yellow pages for an MMA gym first. The UFC announced the CM Punk signing before UFC 185 in early 2015 before the former WWE star could even figure out what MMA stood for.
The pressure was on from the get go and it didn't have to be. Punk left the WWE in early 2014 after a dispute regarding his health, which involves a lawsuit against WWE's Ringside physician. Sadly enough, he went on to sign a deal with a company that didn't care so much for his health given the opponent they matched him up against after merely a year or so in MMA training.
Coming back at UFC 225 still sounds premature to me given his lack of experience in any form of combat or amateur wrestling. If he is trying to make a successful MMA run, he should've probably sought out a lesser promotion to garner some experience or kept his head down and continued training until Duke Roufus and company honestly believed he was ready.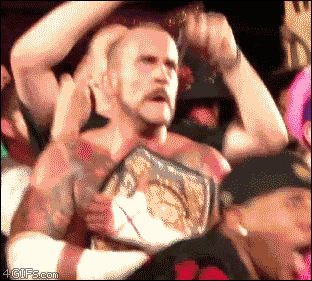 Now, he'll have to commit to his contract and do so in front of his hometown of Chicago. On the positive side, If things don't go well for Mr. Brooks there is always pro wrestling waiting for him with open arms.